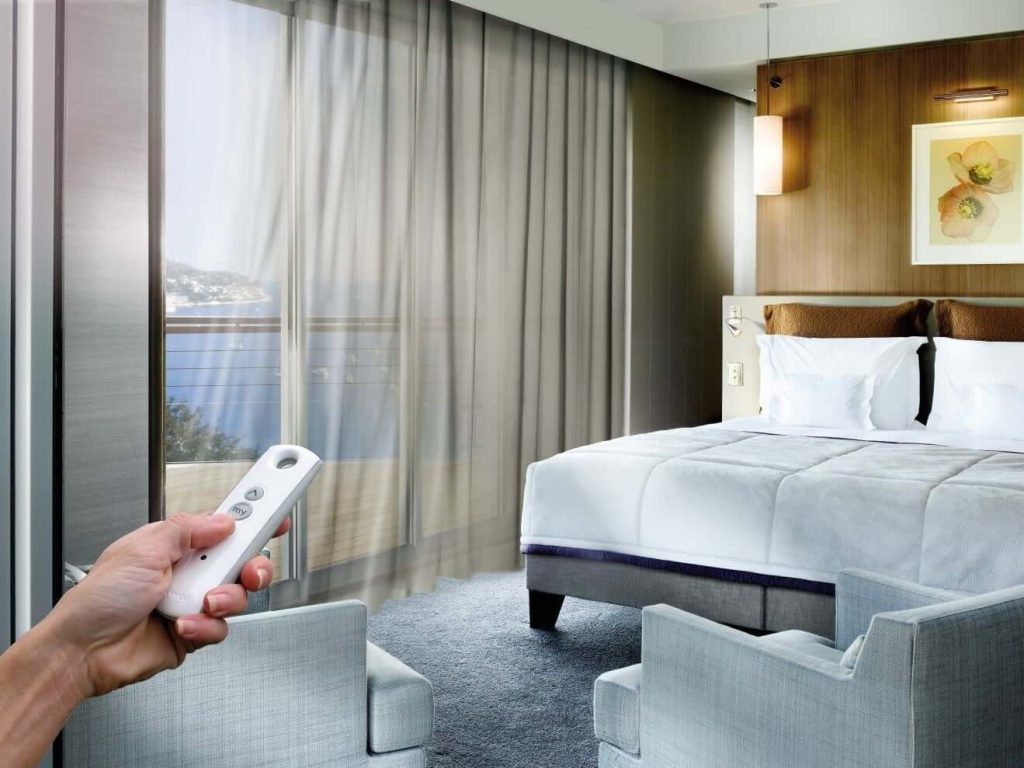 Imagine if you could adjust your window blinds with the push of a button – no more having to reach up and fiddle with cords! This type of luxury and convenience is what you get when you invest in motorized blinds or electric window shades.
These devices are not only stylish and elegant, but they're also kind of cool as they help in improving your quality of sleep by providing total darkness when you need it. This helps to raise melatonin levels and improves circadian rhythms.
In this article, we're going to answer some common questions about this technology, like how motorized blinds work. and much more. By the end, you should have a good understanding of how this tech works whether or not they're right for your home.
How Do Motorized Shades Work?
Motorized shades, also known as electric blinds are operated by a small motor that is connected to a power source. The motor is mounted on the device and is used to raise and lower the blinds.
When you want to open the blinds, you simply push a switch, turn a knob, or hit a button on a remote control to activate the motor. This will then raises the blinds until they are fully open. To close them, you simply reverse the process.
What Factors Impact Motorized Blinds' Cost?
Motorized blinds are popular, and offer a number of benefits, including privacy, energy conservation, and improved comfort. However, one of the most important considerations when buying is their cost.
So how much do electric shades cost? This depends on a number of factors, including
The Number of Windows
The number of windows that are going to be covered will determine how many motors are needed and how much they cost. The more windows that need to be covered, the more motors will be needed.
A good way to cut costs is to only automate only the windows that will provide the most benefit.
Brand of Motor
Motorized blinds are manufactured by various brands. This can impact costs because some brands have lower-priced products than others and some manufacturers offer warranties on their products. The key is to do proper research and look for a brand that ticks all your checklist.
Battery Operated or Hardwired
Battery-operated blinds are cheaper than hardwired models because they require no wiring, plus they have the advantage of being rechargeable.
Hardwired on the other hand cost more because the wires have to be put in place during construction or renovation work. If you choose this option, you will need to include the cost of wires and electrician fees in your budget.
Type of Control
Another important factor that affects cost is the type of control you chose.
Blinds with basic controls like a wall switch will not cost as much as remote-controlled roller blinds. There are also motorized shades that can work off an app on your phone. Of course, this model will cost more as they require specialized equipment to function.
Are Motorized Blinds Loud, And How Long Do They Last?
Motorized blinds are not loud. In fact, they're barely audible. The mechanism that moves the slats is very quiet, so you won't even know it's there.
As for how long they last, these devices are built to last. The motors are very durable, and the slats themselves are usually made of high-quality materials (As long as you buy from a reliable brand). So you can expect them to last for many years. However, battery-operated models will require new batteries every five years.
Note though that the longevity of your shades may also be determined by how frequently you use them.
How Are Electric Window Blinds Controlled?
Switches are the most basic way to control electric window blinds. They are located on the wall and can be used to operate your windows treatment. More advanced versions that can serve as a central control for all your units are also available.
Remote-controlled blinds are another popular option when it comes to smart windows. You can use a remote to raise and lower the shades, as well as adjust the tilt of the slats.
You can also use apps on your phone or computer to control your electric window treatment. These apps typically connect to a device that converts your phone into a remote control for controlling your windows treatment.
You can also control your automated windows treatment with a smart hub. This device can also integrate with other home automation devices. It delivers a lot more functions than an app or remote control.
Final Words
Motorization is a great way to increase the energy efficiency of your home. Not only will this technology help keep your home cooler in the summer and warmer in the winter, but it'll also help reduce your energy bills.
Thinking about investing in motorized window treatment? Give us a call at Om Wave. We deliver reliable solutions that are built to last.