Every gift-giver knows the excitement of finding the perfect gift for someone who is hard to shop for and seeing the joy on the recipient's face when opening it. Unfortunately, finding a good gift for some folks is extremely challenging. If you're shopping for an eco-friendly friend, for example, you may have a hard time coming up with ideas that they will appreciate and use. This is especially true if you haven't already committed to going green yourself yet.
The good news? Shopping for environmentally conscious people doesn't have to be difficult. You just have to be mindful when shopping and look for things that won't contribute to waste or environmental harm. Whether you buy a sustainable set of freezer storage containers, a solar charger for their phone or any of the other items listed below, your friend is sure to love it. Keep reading to discover a few of the best gifts for eco-friendly people.
Food Storage Containers
Food storage containers might not seem like a very exciting gift at first glance, but hear us out! Stocking up your friend or loved one on sustainable freezer, pantry and fridge storage containers will help them as they work toward eliminating single-use plastics from their life. Plus, eco-friendly solutions like reusable silicone bags are much more aesthetically pleasing than their plastic counterparts.
While you're at it, consider getting your pal some insulated drinkware. There are plenty of options to choose from, whether they prefer sipping on hot beverages or need something that will keep their water ice cold all day long. Even if they already have some bottles or tumblers they use regularly, there is no such thing as too much reusable drinkware.
Reusable Shopping Bags
Help your friend ditch disposable plastic bags and switch to reusable shopping bags instead. Eco-friendly reusable bags are made from sustainable materials like organic cotton or jute, and they come in a variety of sizes to suit any need. Most reusable bags can be tossed in the washing machine when they get dirty, so they'll last for years to come. They come in a variety of different designs, too, so you'll have no problem finding one that your intended recipient will love. You could even use a reusable shopping bag in place of a regular gift back for their present.
Sustainable Wood Cutting Board
If your friend is a foodie, they'll love a new cutting board made from sustainable wood. Bamboo is a popular sustainable material for cutting boards, as it's strong and durable yet gentle on knives. Look for a cutting board that's certified by the Forest Stewardship Council to be sure it's been sourced responsibly.
Solar Charger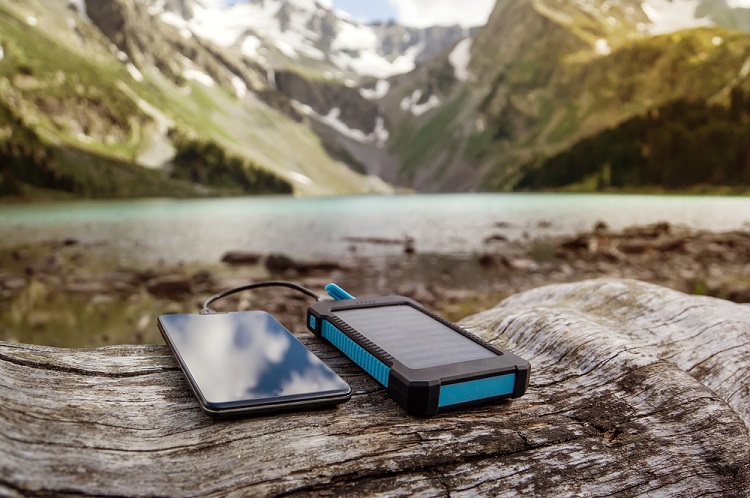 Image Source: diy13/Shutterstock.com
A solar charger is a great gift for anyone who uses electronic devices regularly. Solar chargers harness the power of the sun to recharge devices like phones, tablets and laptops. Look for one that is portable, so your friend can take it along on camping trips or hikes. Many solar chargers also have multiple ports, so multiple devices can be charged at the same time. In addition to being eco-friendly, solar chargers are super handy to have on hand in case of emergencies.
Recycled Sculpture
Feeling creative? Why not give your friend a piece of art that's truly one-of-a-kind with a recycled sculpture? These sculptures are made from materials like paper or metal cans that would otherwise end up in landfills. Many recycled sculptures are repurposed into other objects like lamps or vases. You can also find recycled sculptures at many eco-friendly stores or online retailers.
Compostable Coffee Cups
If your friend is always on the go, they'll appreciate a set of compostable coffee cups. These cups are made from sustainable materials like bamboo or cornstarch, and they can be disposed of in compost bins when they're done being used. You can find compostable coffee cups at many eco-friendly stores or online retailers that sell green products.
Beeswax Wrap
Say goodbye to disposable plastic wrap with food wraps made using beeswax. They're perfect for storing things like sandwiches and for covering bowls in the fridge. Each one lasts about a year with proper cleaning. And since they're made from cotton, they are biodegradable. They make great fire starters too!
Countertop Compost Bin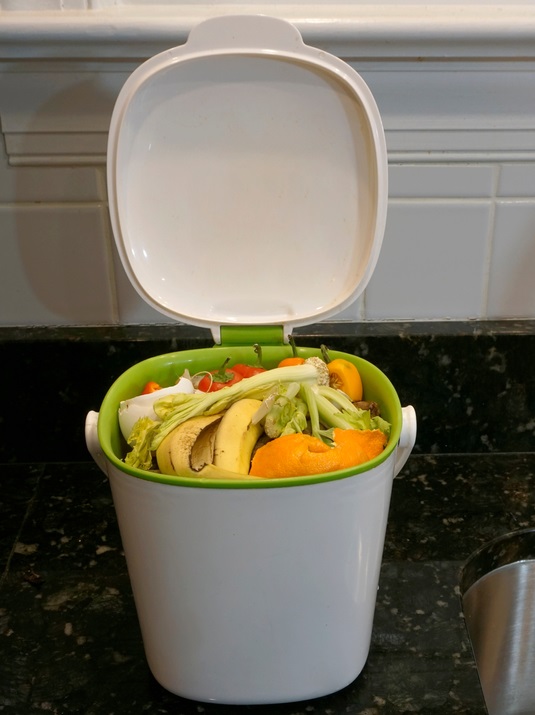 Source: PT Hamilton/Shutterstock.com
Composting is an excellent way to keep food scraps out of landfills, but who wants to run to an outdoor bin after every meal? With a countertop compost bin, your friend will be able to do their part to protect the environment without needing to take scraps outside so frequently. Indoor bins are designed to lock in odors, making them suitable to keep on the countertop, under the sink, etc.  Plus, most indoor models are aesthetically pleasing enough to fit into any decor.
Reusable Straws
Help your friends kick their plastic straw habit with a set of reusable straws. Stainless steel or glass straws are sturdier and more durable than their plastic counterparts, and they can be used over and over again. Many eco-friendly stores sell straw sets that come with a cleaning brush, so your friends can keep their straws clean and ready to use. These make a perfect stocking stuffer for anyone who is working toward a more sustainable lifestyle.
Eco-Friendly Bath and Body Products
Just about everyone enjoys a bit of pampering once in a while. Unfortunately, many bath and body products are far from eco-friendly. There are, however, still plenty of good options on the market. Put together a basket containing pampering products from eco-friendly brands to treat your loved one to some much-needed TLC.
Conclusion
With so many great gift options available, it's easy to find something special for the eco-friendly people in your life! Whether they're interested in reducing their impact on the environment or just want some practical items to help them live a greener lifestyle, any of these gifts would be sure to please them.