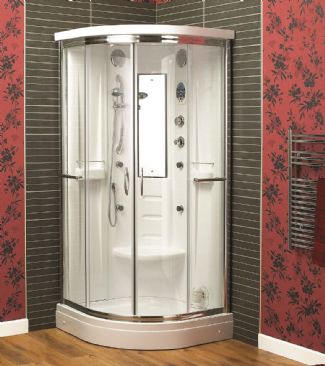 You don't just choose a steam shower based on its appearance or cost. There are other details that you have to take a closer look at before you can decide whether or not you have made the right decision. These might seem like minor details at first, but they are crucial.
1. Functional sliding door
This is important so that whether the older members of the family or your kids use the shower; it won't be a big problem. The door can be opened and closed easily. It should also be sturdy enough that despite constant use over a longer period of time, it won't be a big problem.
2. Easy to adjust water temperature
You might hate it if you are forced to keep adjusting the temperature of the water coming out of the shower. You might receive shocks all the time because the water is too hot or too cold. The best solution to this problem is to have a thermostat valve that allows constant water temperature. You can easily set it so that when you step in the next time around, the water will have exactly the right temperature you wish.
3. Extra features
There are showers that have features not found in all steam showers. This includes iPhone compatibility. It allows you to use your phone even when you are inside the shower cubicle. Others also allow you to play music so that you will feel totally relaxed. They are extra features that you can live without, but will most probably give you a better shower experience. You need to consider if you really need them or not.
4Sturdy chair
This is of course the most important thing of all. Steam showers are an ideal way to relax, but this is best done if you have the right temperature of water dripping on your body and at the same time are able to sit comfortably on a chair. You can stay inside as long as you want and still be totally relaxed. It should also make you forget all your problems.
Buying a steam shower is just like buying en electronic device. There are some minor details that other people might seem to ignore, but they can make all the difference. Therefore, it is important to take a hard look at these details so that you can decide which of the options you will go with. Take note as well that even small details can have a major impact on the price. In the end though, you have to go with a steam shower that can make you fully relaxed. This should be the priority above anything else.
Image source: JTSpas