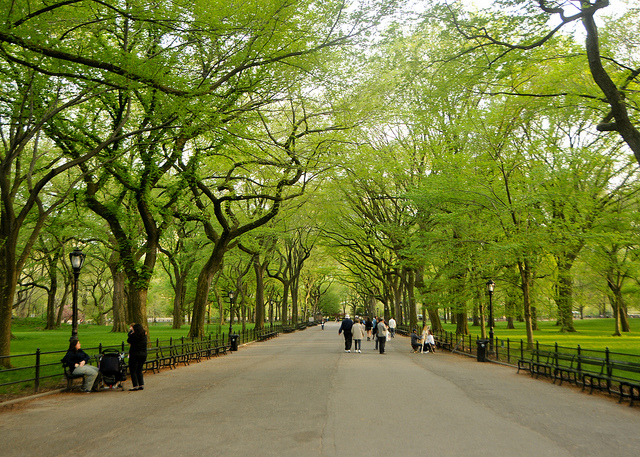 Prosperous cities are not only economically well-off but promote environmental well-being and sustainable development as well. Central Park in New York City (Photo Credit: Some rights reserved by Gane via Flickr)
More than half of the total world population today lives in urban areas. It is estimated that an average of 200,000 people will be added to the world urban population 
every day
 between 2010 and 2015. By 2050, seven out of every 10 human beings will live in cities.
This is according to the newly released publication of the UN Habitat "Prosperity of Cities", a report on the state of the world's cities for 2012/2013. The UN report highlights the need for people-centered, sustainable cities. Instead of focusing only on improving its economic dimension, cities should also pay attention to other dimensions such as environmental sustainability, social equity, infrastructures, and general quality of life. This is the new definition of prosperity purported by the UN Habitat when it comes to urban development.
5 Dimensions of Prosperity
The report uses two new tools to measure prosperity in cities. First is the statistical instrument City Prosperity Index which measures prosperity factors, while the second is the matrix Wheel of Urban Prosperity which calls attention to areas ripe for policy intervention.
The UN Habitat report characterizes a prosperous, 21st century city as providing:
Productivity – provides economic growth, equal opportunity, income, and decent jobs
Infrastructure development – improves living standards through adequate water, sanitation, roads, and ICT
Quality of life – prioritizes public spaces and safety
Equity and social inclusion – ensures equal (re)distribution of prosperity benefits, reduces poverty, and encourages civic participation
Environmental sustainability – promotes protection of urban environment and natural assets, builds natural disaster-resilience, and cuts environmental losses
City Prosperity Index
The UN Habitat report classified cities according to the City Prosperity Index, which measured individual cities against the five dimensions of prosperity outlined above.
Cities with very solid prosperity factors have high productivity, good urban governance, and safe environments. Ex. Vienna, Amsterdam, New York, and Copenhagen.
Cities with solid prosperity factors (first category) have relatively strong institutions and large availability of public goods. Ex. Mexico City, Seoul, Prague, Moscow, Lisbon.
Cities with solid prosperity factors (second category) show less coordinated and ill-balanced development, with institutions and urban management practices still in the process of consolidation. Ex. Casablanca, Manila, Johannesburg,and  Bangkok.
Cities with moderate prosperity factors have wider discrepancies among the 5 dimensions of UN Habitat-defined prosperity, less balanced development, and showing a neat divide between its rich and poor. Ex. New Delhi, Phnom Penh, Guatemala City, Nairobi.
Cities with weak prosperity factors have low production of goods and services, lack of investment in public goods, and chronic inequality as well as widespread poverty. Ex. Kathmandu, Harare, Accra, and Lagos.
Cities with very weak prosperity factors have largely dysfunctional systems and institutional failings, sluggish economic growth, and threatened with conflict countries. Ex. Monrovia, Antananarivo, and Niamey.
A Ready Remedy
With their ready and flexible platforms, cities are the remedy to the global crises. In many cases cities find themselves in more privileged positions than national governments to negotiate and enact change in urban areas where it is needed most. UN Secretary General Ban Ki-moon said in the foreword of the report, "Despite the challenges they face and, indeed, the dysfunction that prevails in many urban areas, cities have a central role to play in contributing to national and global recovery. And as the world seeks a more people-centered, sustainable approach to development, cities can lead the way with local solutions to global problems."
You might also like