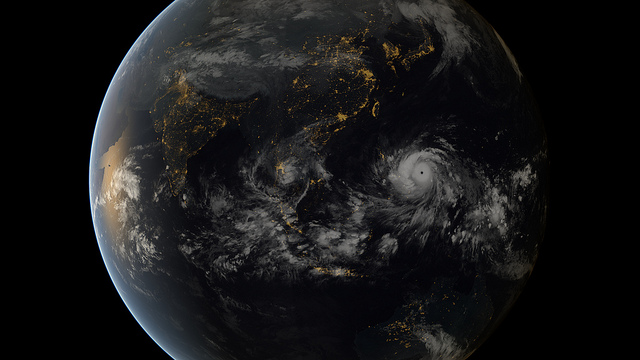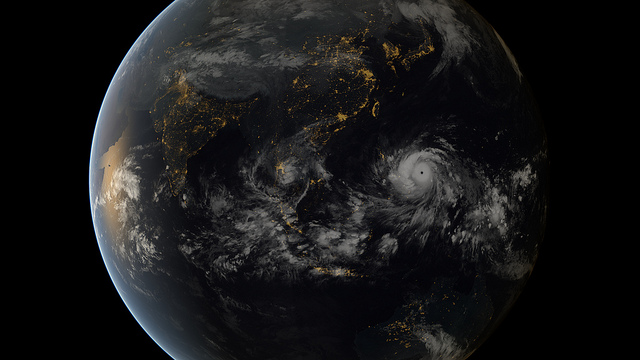 On November 8 super-typhoon Yolanda (international name Haiyan), bearing winds of up to 300 km/h, made landfall in the Visayan region of the Philippines. What happened next is now a familiar story repeated countless times on the news and on the Web.
Paolo Mangahas, WWF Coral Triangle Communications Manager said that everyone saw Yolanda coming but nobody was really prepared for it. Just fresh from a shockingly powerful earthquake last month, people flocked into evacuation centers in anticipation of the storm. Disaster preparedness was boosted across many parts of the country. But in hindsight, the only question left to ask was, How much is enough? Who could prepare for something like this?
Filipinos are a people born and raised under a tropical, storm-punctuated climate. Storms and minor floods were for the most part familiar occurrences that people were able to laugh them off. But lately, the climate has increasingly become a stranger. The towns and cities of Visayas prepared for supertyphoon Yolanda/Haiyan, but it was a storm that caught everybody off guard with its sheer power. Those who survived it say they have not seen anything like it before in their lifetimes. And while some may hunt to death the smallest 'less-likely-than-not' possibility that man-made climate change has nothing to do with it, the realities of increasingly extreme weather events is a fact that the world has to live with today. Mangahas said, "While it might be difficult to directly attribute Typhoon Haiyan to climate change, scientists have predicted more and more extreme weather conditions to happen due to an increasingly warming planet. …If we are to ensure the welfare of the millions of people who are most susceptible to the planet's changing climate, immediate steps must be taken now because the cost of not doing anything far outweighs the cost of being prepared."
The Greatest Loss
For a while, after storm signals were raised, everything was quiet. Then the stories started pouring in. Yolanda/Haiyan left behind more than 4,000 people dead (confirmed as of this week) and affected around 13 million people (UN estimate). It transmuted prosperous, modern cities into a more than Php10 billion infrastructure and agricultural damage. But who's counting how much money they lost? Each time the survivors were asked by reporters, they say "I lost my father. I lost my sister. I lost my children." The greatest and most immediate losses to the people whose lives have been impacted by Supertyphoon Yolanda were loved ones and family – people.
I believe this highlights yet again the underlying essence of any positive environmental contribution. People are the ones who suffer the most from the consequences of environmental imbalance and degradation. People are also the ones who benefit the most from a healthy and thriving environment. We care about green energy resources because we are the ones who get the backlash of excessive carbon emissions. We care about questionable environmental practices because we are the ones who consume the end products. And we care about the climate because nobody can run away from it. On November 8, there was nowhere to run from supertyphoon Yolanda/Haiyan.
The same threat faces the rest of the world. Even as climate change polarized opinions, its effects continue to impact one nation after the other. Mangahas says, "The ravaged places and faces we are now seeing in the Philippines paint an all-too-real picture of what is in store for the rest of the region if we continue to ignore the delicate and inextricable link between people and nature."
Mangahas' words have been repeated time and again by scientists, environmental advocates, and conservationists among many others. Yet even words like his lose their appeal in a world where it is easier to turn to less painful realities. But increasingly, the voices of those who are not afraid of the truth are being heard.
A Brave Voice
At the UN Climate Summit in Warsaw, Poland, Philippines lead negotiator Yeb Saño once again gave a stirring speech that moved his fellow delegates to a standing ovation. It may be remembered that Sano also challenged the international climate conference last year to real action instead of plodding progress. With his own hometown ravaged by the supertyphoon, Saño didn't bother to mince words:
"It is the 19th COP, but we might as well stop counting, because my country refuses to accept that a COP30 or a COP40 will be needed to solve climate change. And because it seems that despite the significant gains we have had since the UNFCCC was born, 20 years hence we continue to fail in fulfilling the ultimate objective of the Convention.  Now, we find ourselves in a situation where we have to ask ourselves – can we ever attain the objective set out in Article 2 – which is to prevent dangerous anthropogenic interference with the climate system? By failing to meet the objective the Convention, we may have ratified the doom of vulnerable countries."
Saño, moved to tears during his speech, pledged to voluntarily fast from food during the conference until a meaningful outcome is in sight. His words and actions as a leader continue to encourage the supertyphoon survivors that they are seen and heard.
Stories of Hope
Amid the tragedy and loss, heroic stories like Saño's are rising like burning stars from a dark nightscape. So too are stories of selfless acts and miraculous instances that are all written with the universal language of love and empathy.
A Filipino-speaking Japanese volunteer was able to share his gift of listening and sympathy as well as medical service to wounded survivors. A batch of US soldiers arrived in the same beach where General Douglas McArthur came to fulfill his promise to Filipinos in World War II. A local pastor was able to shelter his church members in his own house which was spared from the wrath of the typhoon. Young volunteers showed up to help in whatever way they can.
Both tragic and uplifting stories from the Yolanda aftermath make up the whole picture, for the same reasons. Why? Because even if the supertyphoon flattened cities and wiped out towns, it did not wipe away hope.
In conclusion, we share Saño's sentiment in the Avaaz petition 'Stand with the Philippines' he started for the Warsaw climate talks: "The question that will determine our survival is: can humanity rise to the occasion? I still believe we can."
You might also like