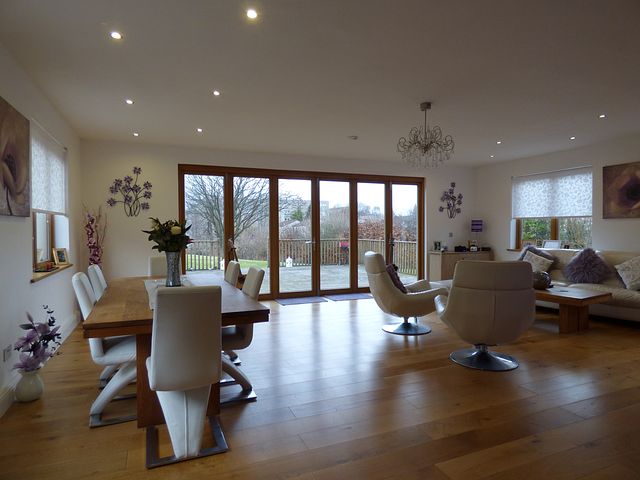 Picture the scene. You wake up on the first day of your holiday, pull back the curtain, open the bi-folding doors and look out to the sea or the pool. Sounds great doesn't it!
This is certainly a scenario many hotel owners across the world want to make a reality as more and more hotel rooms now feature bi-folding doors instead of patio doors. Bi-folding doors offer something a little different and for 5* hotels provide that additional wow factor of uninterrupted views from the bedroom, out to some of the world most amazing locations, like New York City skylines.
So why have they become so popular?
Well for starters they look great. Aluminium bi-folding doors in particular offer a real focal point to a building. Due to the strength of aluminium and its stability, bi-folding doors can be built with smaller frames and thinner sightlines so you can maximise the amount of window in every open space. In turn this then maximises the amount of glass which means that not only can you get more natural light into buildings, helping holiday-goers feel refreshed and energised whilst they are away, but also these amazing views. It also can also help to reduce sound pollution, perfect for busy hotel envrionments.
Variations?
Bi-folding doors also offer lots of variations and are incredibly secure. This makes them perfect for hotel environments where people want to make sure all their items are left securely in hotel rooms whilst they are out on day trips, down by the pool or at the beach.
Some of the most recognisable hotels in the world belonging to the Hilton group, Emirates and Grosvenor House in Dubai all feature bi-folding doors on multiple floors and levels to allow them to maximise eating, drinking and dancing space.
Other great benefits
Another huge benefits for hotel staff is that they can help to regulate temperatures inside whit the help of these doors. High efficiency glazing which often comes as standard with this type uses specialist technology to ensure that internal temperatures are cooler in the summer and warmer in the winter. Most people go on holiday to either get some sun and heat, or for the snow and thus ensuring the internal temperature is the opposite from outside is vital for these hotels. The same energy will also see them reduce energy bills, so that the hotel do not have to charge so much money for you to stay there. It is a win-win situation all round.
So the next time you go on holiday, instead of just opening the doors and looking out to sea, why not think about why that hotel has those doors. Have they got them to save costs, provide you with a better experience or a something else? You never know you may well be opening up a luxury aluminium bi-folding door which provides for all scenarios. Hopefully it will give you the start to your holiday that you so desire!