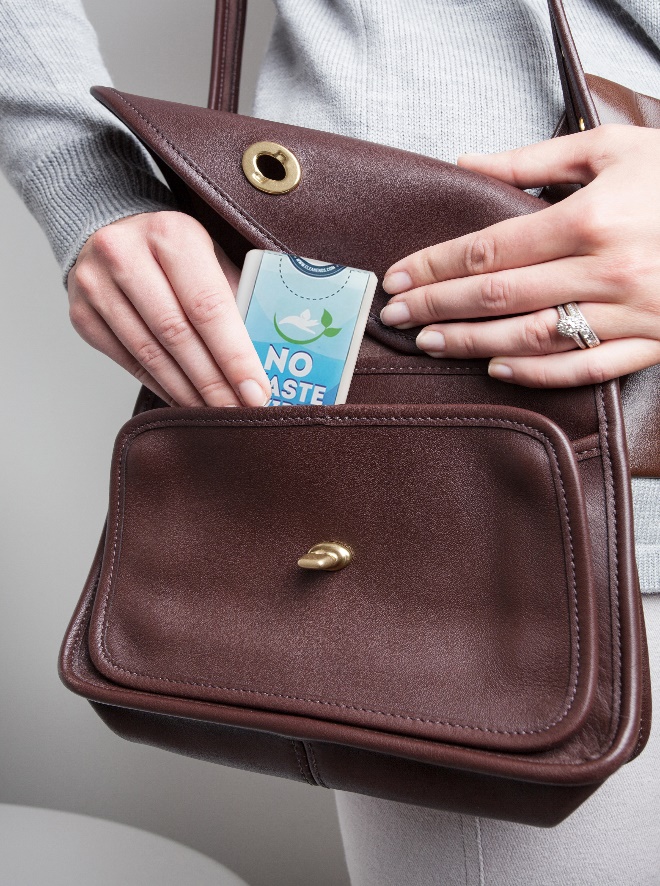 Eco Friendly Wipes
Eco Friendly Wipes and Personal Hygiene In today's world is not just a want but rather a need if one is to keep the world free of excess as well as the whole family robust and healthy. If you are watching for it you will consistently observe motion sensor activated hand sanitizers, soap dispensers and bathroom faucets generally designed for external cleanliness but also making way for reducing waste. With these types of motion activated devices there is less wasted water going down the drain.  But there are definitely barriers to ensuring that there is always something available when one is wanting to be on top of their family's hygiene as well as creating less waste and there is certainly little available convenient options once you arrive in a bathroom stall either alone or with the toddler, unless you are carrying a huge bag with you on every expedition full of all the bathroom necessities.
This is the problem No Waste Wipe is setting out to resolve for parents and children in all scenarios with the biodegradable all-natural lotion. No Waste Wipe, is meant for those situations when the dry toilet paper is simply not enough and clogging the toilet with a wipe is the furthest from the best option.  Fact is wipes create a lot of waste and clog the sewer systems. These clogs can trap other debris causing a large clog and thus requiring costly repairs for city waste water and homeowners. The average cost of a Plumber to clear a small non-emergency clogged pipe is $211, for city like New York this cost is $3.6million per year and growing each year due to wipes year over year increased personal hygiene usage. With the dollar figure tied to the waste made by the sewer clogs for every $2500 dollars city expense this is one dump truck bringing waste to the city dump that's 1440 dump trucks per year, which is equal in length to 100 football fields. That is a lot of waste created by so called flushable wipes.  The feeling of waste somehow escapes the individual when all they can think about is being clean and the clean feeling simply cannot wait until they arrive home to bath or hit the shower in the evening.
While the Target Demographic for No Waste Wipe is Parents, children and babies No Waste Wipe is suitable for every one of all ages.
No waste wipe has ingredients that are intended for the most sensitive bottoms even if a family member has hemorrhoids or fissures it has willow herb and aloe vera which will reduce the inflamed areas even if the area that is inflamed due to a mosquito bite. When No Waste Wipe is compared to other products in this category it is found that the packaging of No Waste Wipe is much smaller and friendly for the Eco Minded as opposed to these more well-known name brands Huggies, Pampers, Earths Best, Aquinelle tissue mist, Refresh, Freshu, Fresh Wipe, Etiquette, Fresh Assist, Fresh Dab, One wipe Charlie.
No Waste Wipe Pros:
The dispenser bottle is very small (similar in size to a credit card) making it convenient to carry in any pocket, honestly I didn't even notice No Waste Wipe in my pocket until I wanted to use it. Dispensing the pleasant scented lotion worked nicely to apply to any toilet paper allowing full cleanliness removing what is normally left behind. Cleaning my toddler was super easy and worked great. Using No Waste Wipe myself on a day at the office makes me wonder how I lived without it. It was also very easy to use for the whole family. The "Single" bottle lasts quite a long time about 33 days for me.
No Waste Wipe Cons:
The Sticker on the bottle did not tear along the dotted line very easily, leaving the label tethered somewhat. For getting the lotion onto the Toilet Paper sometimes it takes several squirts to get adequate volume on the toilet paper. Once the bottle got to a lower level it sometimes would get a vapor lock, which was easily be fixed by turning upside down and depressing the dispenser trigger or by removing the protector tab from the fill hole. The company is currently not sending refills for the dispensers which some other companies are providing.
The Bottle is small and similar in size to a bank card, with measurements of 1 ¾" (4.5cm) wide x 3 ¼" (8.4cm) long x 3/8" (1cm) thick.
Price per dispenser bottle $4.50
In conclusion, I believe No Waste Wipe is on the proper path for those interested in Eco Friendly Living and are hygiene conscious. The product doesn't come entirely without its flaws and hopefully Clean Ends will work those out. The price is of good value and for the convenience of daily use for myself and my family getting our needs fulfilled with less waste being created No Waste Wipe assures that you leave nothing behind.
For further purchase details of the No Waste Wipe products you can visit their website at http://nowastewipe.com/our-wipes/