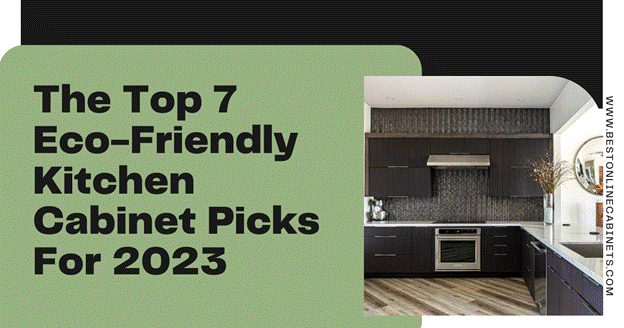 According to the Agency for Toxic Substances and Disease Registry Toxic Substances Portal, Volatile Organic Compounds (VOCs) can irritate the eyes, nose, and throat, cause difficulty breathing and nausea, and damage the central nervous system and other organs.
That's why eco-friendly furniture picks are growing more popular today. By choosing eco-friendly or Zero-VOC kitchen cabinets, you have the added benefit of staying healthy while being environmentally responsible.
Start working on your eco-friendly kitchen and read about our top 7 cabinet picks for 2023:
1. Bamboo Plywood Cabinets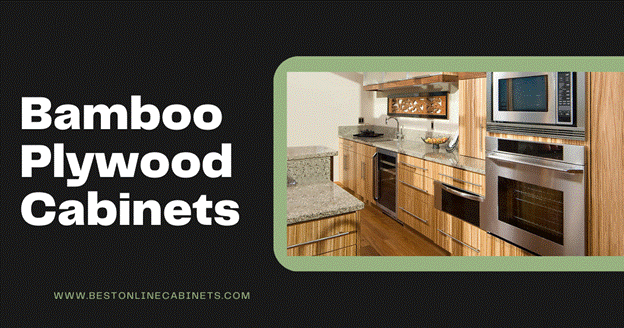 Source
Bamboo plywood cabinets have a distinct look. They feature a warm, light-colored wood grain slightly more subtle than traditional solid bamboo cabinets.
The edges of the cabinet boxes are often squared off or curved to create an elegant silhouette. Bamboo plywood cabinets have a contemporary aesthetic, clean lines, and minimalistic design.
You can choose an Asian Style Kitchen as one option, and they can be painted in many colors. Whether you keep the same natural shade or go for a white cabinet, you can choose finishes to match your style.
It is more durable and resistant to damage than other types of wood, so it can withstand the wear and tear of kitchen use while being lightweight.
Bamboo also regenerates quickly. Unlike traditional wood, bamboo plywood is made from natural grasses replenished quickly in forests or plantations.
Where to purchase Bamboo Plywood Cabinets
Online stores are your go-to choice since they offer various styles and sizes of bamboo cabinets.
Local lumber yards and hardware stores are also excellent options for finding pre-made bamboo plywood cabinets.
While these may have fewer options in terms of style and size, they can often be found at lower prices than you would find online.
Several local cabinet makers specialize in creating beautiful pieces out of bamboo plywood for those looking for something truly unique and custom-made.
By asking your local home improvement stores and doing some research online, you can find the perfect bamboo cabinets to fit your needs.
2. Formaldehyde-Free Plywood Cabinets

Source
The latest in eco-friendly kitchen cabinets is formaldehyde-free plywood cabinets. These cabinets come from sustainably sourced wood, such as bamboo and lyptus woods, and are free of toxic glues or adhesives.
The cabinets come in various styles and finishes, many of which feature natural wood grain patterns that add a unique and classic style to any space.
The plywood construction is also very versatile, allowing it to be cut and shaped into complex designs that will perfectly fit your space. They're resistant to water damage and shrinking, which makes them perfect for any kitchen environment.
These cabinets also have low VOC emissions, making them ideal for those with allergies or chemical sensitivities. They are also easy to clean and maintain.
Their lifespan can last up to 25 years with proper care. With their versatility and sustainability, formaldehyde-free plywood cabinets are the perfect choice for those looking for an eco-friendly option in the kitchen.
Where to purchase Formaldehyde-Free Plywood Cabinets
You can locate distributors in the Western United States and BC, Canada. There are also wholesale suppliers such as Chesapeake Plywood. Online stores and retailers like Lowe's also offer special wood orders with no added formaldehyde. Crown Point uses formaldehyde-free plywood.
Some manufacturers offer customization options such as custom stains and finishes so that you can create the perfect look for your eco-friendly kitchen. Check out this sample of an upcycled kitchen with plywood cabinets. With the right eco-friendly kitchen cabinet choice, you can enjoy both beauty and sustainability in your home.
3. Reclaimed Wood Cabinets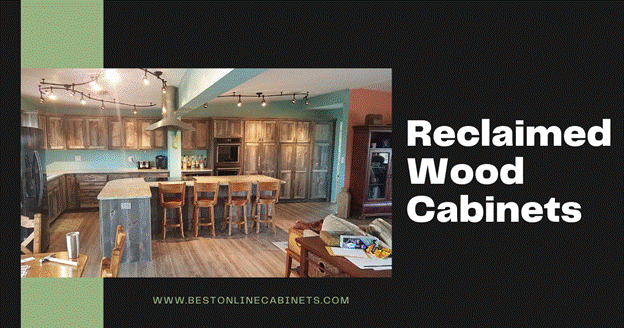 Source
Reclaimed wood cabinets are often sourced from older buildings torn down or remodeled. They are typically made from reclaimed wood, such as Barnwood or other salvaged lumber. They give a natural weathered rustic look that adds warmth and character to any room.
The color and texture of the wood can vary depending on the type used. Their texture can also vary from smooth to rough, with unique characteristics like knots, grains, and colors that other materials like bamboo or Lyptus don't have.
It can even provide a Mediterranean look with the right colors and textures.
Some reclaimed wood can even be more durable than new wood because they're more mature and contain naturally occurring oils that help preserve them over time. And because it's already been treated, you don't have to worry about chemicals or other contaminants that could affect your health.
Where to purchase reclaimed wood cabinets
You can find eco-friendly kitchen cabinets at many stores and online retailers like Etsy and Wayfair. Home improvement stores like Lowe's and Home Depot offer eco-friendly kitchen cabinets in various materials such as reclaimed wood. Searching for "reclaimed lumber" also shows significant results on eBay, so you have many options. You can check out other retailers like U.S. Reclaimed, Old Wood Reclaimed, and American Reclaimed.
If you're interested in custom pieces, local artisans and cabinetmakers often specialize in eco-friendly cabinets made of reclaimed wood.
With many options available, eco-friendly kitchen cabinets are easy to find when designing your kitchen.
4. FSC Certified Wood and Resin Composite Kitchen Cabinets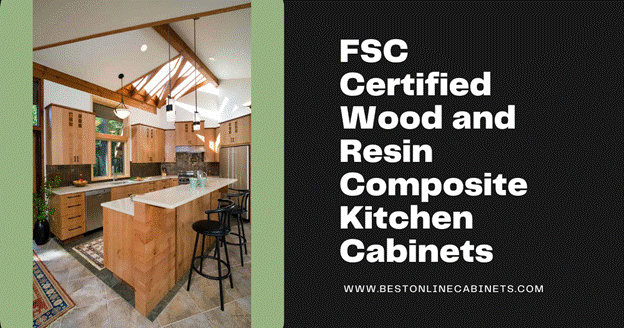 Source
The FSC (Forest Stewardship Council) Certification is an internationally recognized label that ensures that eco-friendly materials are used responsibly in manufacturing.
These cabinets offer beauty and style to any kitchen design. With its natural grain patterns, this composite material looks like real wood. This composite material uses renewable resources to create a strong and durable construction that can withstand the wear and tear of everyday use in the busiest kitchens.
They are also easy to clean and maintain. They require minimal upkeep and can be wiped down with a damp cloth. They come in various colors and styles so that you can find the perfect match for your home decor.
Where to purchase FSC Certified Wood and Resin Composite Kitchen Cabinets
Popular stores like Amazon and Overstock have a wide selection of FSC-certified kitchen cabinets.
You can also find FSC-certified kitchen cabinets at home improvement retail stores like Home Depot and Lowe's. Many cabinet manufacturers have websites and online stores where you can purchase FSC-certified kitchen cabinets.
Another option is directly contacting your local FSC-certified kitchen cabinet suppliers and manufacturers. Many of them offer custom design services, as well as special discounts for bulk orders.
5.  Zero-VOC Paint Kitchen Cabinets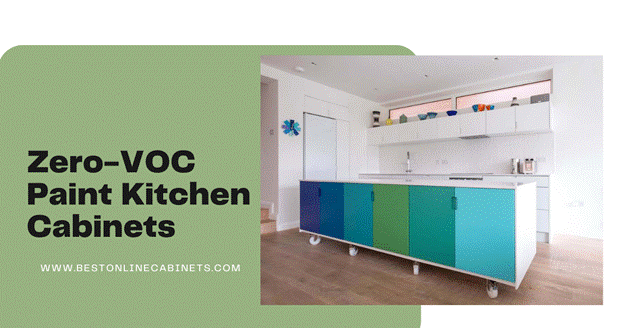 Source
When paints, stains, and coatings are applied or cured, VOCs are released into the air. They can cause various respiratory issues, such as headaches, dizziness, nausea, and difficulty breathing. Choosing Zero-VOC means choosing a healthier alternative.
Zero-VOC paint kitchen cabinets do not have VOCs that can harm the environment and human health.
Many also prefer the look and feel of this type of paint over traditional latex or oil-based paints as it produces a more natural, muted color palette. Also, Zero-VOC paints dry quickly and don't have an unpleasant odor like some other types of paint do, making them ideal for any project.
Finally, Zero-VOC paint kitchen cabinets require less maintenance than standard paint. They are beneficial if you live in a humid climate that may cause traditional paint to peel or chip after only a few years.
Where to purchase Zero-VOC Paint Kitchen Cabinets
Zero-VOC paint kitchen cabinets are becoming increasingly popular, and many eco-friendly companies offer them. Royal Cabinets makes a line called Green Leaf with no added formaldehyde materials (solid wood fronts are an option) and low-VOC finishes. Taylor Made Cabinets offers custom no-formaldehyde cabinets with plywood boxes, solid wood drawers, and doors.
You can also find VOC paints such as Ecos Paints, AFM SafeCoat, Clare Paint, Sherwin-Williams Harmony interior acrylic latex paint, Benjamin Moore's zero-VOC Natura paint line, and Behr's water-based i300 zero-VOC paint line available at The Home Depot.
Be sure to look for Zero VOC paints and eco-friendly materials when purchasing to ensure the healthiest and most sustainable choice for your home.
6. Recycled Glass and Resin Composite Kitchen Cabinets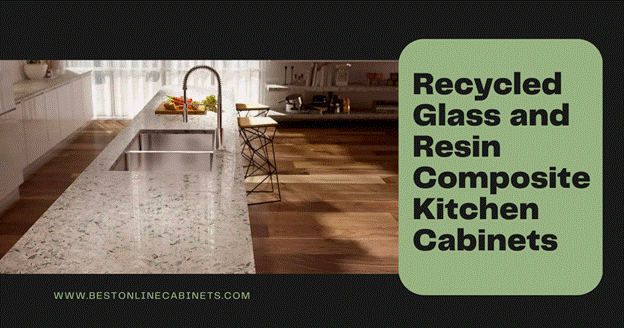 Source
Recycled glass and resin composite kitchen cabinets are an innovative, eco-friendly choice made from recycled glass, wood fibers, and resin.
They feature a unique combination of recycled glass chips, which provide a unique texture, with epoxy resin to create a solid and durable surface.
This modern twist on traditional cabinetry is available in various shapes, sizes, and color palettes to fit any kitchen design. The cabinets are easy to clean and maintain, making them an excellent choice for busy households.
The recycled glass and resin composite material is stain-resistant, water-resistant, and nonporous, so it resists bacteria and odors better than traditional wood cabinetry.
They are highly durable and resistant to scratches, water damage, heat exposure, UV rays, stains, and other environmental factors that can damage raw wood. Plus, their sleek, glossy surface also tends to hide dust better than different styles.
They can come in various colors and textures to match your existing kitchen décor or create an entirely new look for the space, like this Sleek and Sophisticated Kitchen.
Where to purchase Recycled Glass and Resin Composite Kitchen Cabinets
Many online stores specialize in eco-friendly cabinetry solutions that use sustainable materials.
Small businesses and independent contractors often have access to high-quality cabinets made from recycled glass and resin composite. With the proper research, you should be able to find the perfect cabinets for your home at an affordable price.
7. Waterproof Cabinets Made from Recycled Wood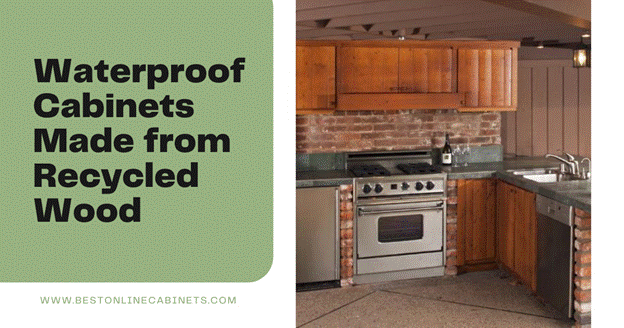 Source
Waterproof cabinets made from recycled wood are typically long-lasting as the wood has been treated as resistant to moisture. They can come in various types, ranging from rustic and traditional designs to modern and contemporary looks.
The cabinets often feature beautiful grain patterns, unique color tones, and other natural characteristics of recycled wood. Depending on the design, these cabinets may incorporate intricate carvings and inlays. One example is this Shabby Chic Kitchen with recycled wood.
They are made from recycled wood and treated with a unique waterproofing process that prevents water damage and mold growth, making them perfect for wet areas like bathrooms, kitchens, and laundry rooms.
The waterproofing process also helps keep the cabinet material looking new for longer since it resists fading from sunlight exposure.
They are also easy to clean and require minimal maintenance over time, so you won't have to worry about replacing your cabinet every few years.
Where to purchase Waterproof Cabinets Made from Recycled Wood
Prices will vary depending on the size and style of the cabinet, so it is essential to compare prices before making a purchase.
Shopping online may be the best option as it allows you to find the perfect cabinet for your needs at an affordable price. Be sure to read customer reviews before buying to get a quality product. With these tips, you can easily find waterproof cabinets made from recycled wood that offer both style and durability at an affordable price.
Beyond waterproof cabinets, you can start looking into other ways to protect your kitchen: Preserving Wood Treasures.
Conclusion
Eco-friendly kitchen cabinets are an excellent choice for your home. They provide a stylish and modern touch to the room and help conserve natural resources, reduce environmental impact, and save money over time.
Here's a recap of some of the eco-friendly cabinets you can explore:
Bamboo Plywood Cabinets are an eco-friendly material that is both durable and sustainable. This material is made from diced strips of bamboo that are laminated together with an adhesive, resulting in a robust and solid surface that is both eco-friendly and easy to maintain.
Formaldehyde-Free Plywood Cabinets provide a toxin-free option for homeowners to make their kitchens healthier.
Reclaimed Wood Cabinets offer a unique and stylish look while being made of recycled materials. FSC Certified Wood and Resin Composite Kitchen Cabinets take advantage of certified wood fibers, reducing production's environmental impact.
Zero-VOC Paint Kitchen Cabinets are ideal for those looking for low-toxicity options, providing a safe kitchen environment without sacrificing style.
Recycled Glass and Resin Composite Kitchen Cabinets combine durability with sustainability by using post-consumer waste that can be seen in the beautiful glass finishings.
Aluminum Framed Doors with Eco-Friendly Finishings offer a modern look while being made from recycled aluminum and compliant with LEED standards.
Waterproof Cabinets Made from Recycled Wood take advantage of high-grade wood fibers that have been treated to provide an extra layer of protection against moisture.
If you're looking for an affordable yet stylish way to upgrade your kitchen space without compromising health and sustainability, eco-friendly kitchen cabinets are perfect.
Know someone about to design their kitchen? Share this blog with them today so they can make eco-friendly and healthy choices.