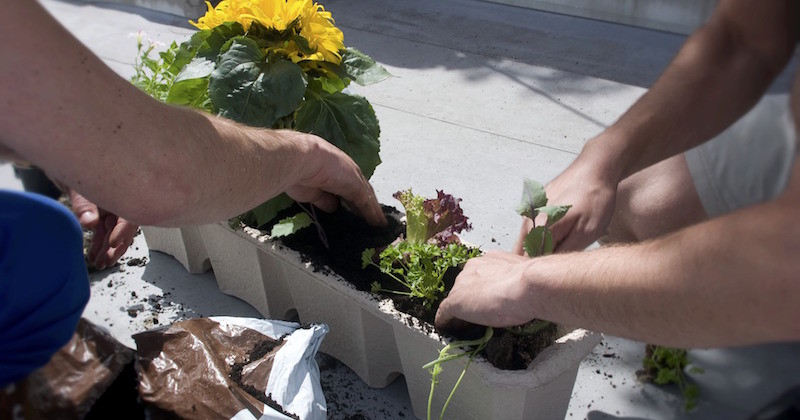 What is the first thing that pops into your head when someone talks about a 'green' garden? You'll automatically know it's going to be environmentally-friendly, which to most people equals boring. Just because you build a garden with the aim of helping the planet it doesn't need to be an eyesore. They can actually be very trendy if you know what you're doing, so let's look at a few cool ideas you should use in your garden.
Build A Stylish Steel Shed
Everyone into interior design knows metals are in at the moment, but this applies to the garden too. It also doesn't hurt that steel is the most eco-friendly building material in the world. It's almost certain to have been recycled, plus once in your garden it's going to last for decades. As long as you're cleaning your shed on a regular basis it's going to feel like it's brand new unlike wooden ones.
Growing Your Own Vegetables
What is cooler than cauliflower rice and zucchini noodles right now? Even the vegetarian and vegan movements as a whole seem to be getting trendier by the day. Not only do vegetables improve the look of a garden, but nothing helps the environment more than growing your own food. If you wanted to make your vegetable patch even nicer you could design it in any special shape you want instead of the one you're imagining.
Solar Lights Inside Flower Beds
It's lovely staring at the flowers during the day, but it's a bit harder to do the same thing at night. Even if you're sitting outside you usually stare into the darkness unless you have garden lights. The trouble with lights is the electricity they waste, which can be avoided if you use solar lights. They can even come with different colored lenses and they'll make your flowers even lovelier to look at.
Use Bamboo Furniture Outdoors
When you go outside you'll need somewhere to sit down, and nothing comes close to bamboo if you're after style and environmentally-friendly furniture rolled into one. Bamboo grows back very quickly, which can't be said for the trees they chop down in rainforests. You'll also find bamboo furniture of all shapes and sizes scattered around gardens in the most tropical countries on earth.
Plant A Vertical Garden
Any eco-friendly garden should have lots of plants, because what is greener than growing something that creates oxygen? It's troublesome if you don't have a large garden due to the lack of space available, but there is still a perfectly trendy solution. You need to plant a vertical garden. It's fair to say the majority of us think these look better anyway, especially anyone who hasn't seen lots of them before.
You're Right To Be Concerned
Green gardens usually do look like something you wouldn't want to see when you stare out the window. You're right to be concerned, but hopefully now you know trendiness doesn't need to be sacrificed when you want to help the environment. If you use all these ideas you'll be making the world a better place and your garden will still look fantastic.