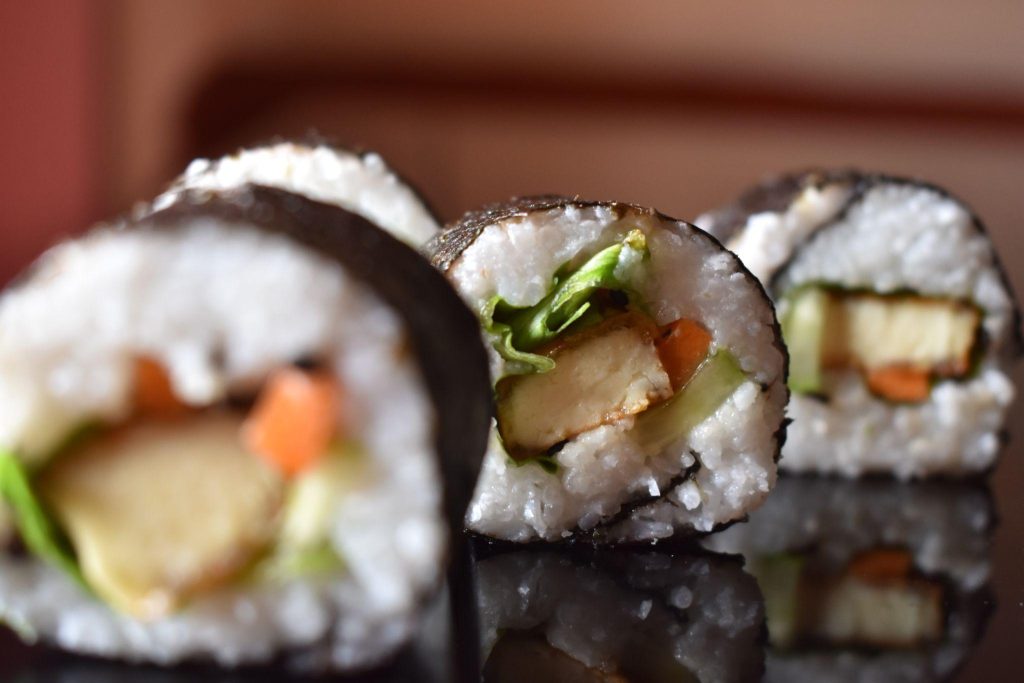 Perhaps you're a full-blown vegan, or maybe you're just someone simply who loves exploring new cuisines. The good news is that vegan food has moved beyond just salads and tofu dishes. There are now numerous gourmet and distinctive vegan choices available to amaze you. In this article, we've picked four tasty and extraordinary vegan dishes that represent diverse cultures and cuisines from across the globe.
#1 Vegan sushi rolls
Vegan sushi rolls offer a delicious and nutritious plant-based alternative to the classic Japanese dish.
This specialty is made with nori sheets, sushi rice, and various fresh vegetables or fruits such as avocado, cucumber, carrot, and mango. To make vegan sushi rolls, start by cooking the sushi rice according to package instructions and seasoning it with rice vinegar, sugar, and salt.
Lay the nori sheet on a bamboo mat and spread a layer of rice over it, leaving a small border at the top edge. Then add your desired vegetable or fruit fillings at the bottom of the nori sheet.
Proceed to roll up the sushi tightly and press down on the edges to seal them. Slice into bite-sized pieces and serve with soy sauce, wasabi, and pickled ginger for an extra kick of flavor.
#2 Roasted kale and mushrooms
Roasted kale and mushrooms is a delicious dish that can be served as a side or main course.
Combining earthy mushrooms and nutrient-rich kale creates an incredibly flavorful and healthy meal that's very easy to make!
Start by preheating your oven to 425°F. Then, combine shallots with one tablespoon of oil, salt, and pepper on a rimmed baking sheet. Roast the shallots for 5 minutes before adding the mushrooms and kale. Drizzle the vegetables with another tablespoon of oil, season with salt and pepper. After that, roast for 20-25 minutes until golden brown.
The roasted veggies can be enjoyed as is, or you can add other ingredients to create a more complex dish. For example, you could add creamy white beans to make crispy mushrooms with creamy white beans and kale or top the roasted veggies with shredded carrots, avocado, and a zesty ginger-sesame dressing to make a roasted mushroom kale salad. You could also combine them with cooked pasta for a hearty dinner, like kale and roasted mushroom pasta.
Roasted kale and mushrooms are effortless yet flavorful dishes that can be enjoyed in many different ways. Whether you're looking for a simple side dish or an impressive main course, this recipe will not disappoint!
#3 Homemade guac and pea chips
Homemade guacamole is a yummy, creamy dip that goes well with a variety of snacks. A very nutritious option involves serving guacamole with crunchy pea chips.
When making the guacamole, cut an avocado in half and remove the seed and skin. Then mash the avocado until it's smooth but still slightly chunked (you can use either a fork or potato masher). Then, add diced tomatoes, chopped onions, minced garlic, lime juice, and salt to give it more taste. Proceed to mix everything together and set it aside.
For the pea chips, preheat your oven to 375°F and line a baking sheet with parchment paper.
Rinse and dry off one can of chickpeas before spreading them out on the baking sheet. Drizzle them with olive oil and season with sea salt, chili powder, and cumin.
Bake for 20-25 minutes until they're crunchy and golden brown. Serve the guacamole alongside the pea chips for an enjoyable yet healthy snack.
Chickpeas are packed with protein and fiber, while avocados provide healthy fats as well as micronutrients. This vegan dish is great for parties or just as a quick snack any time of day!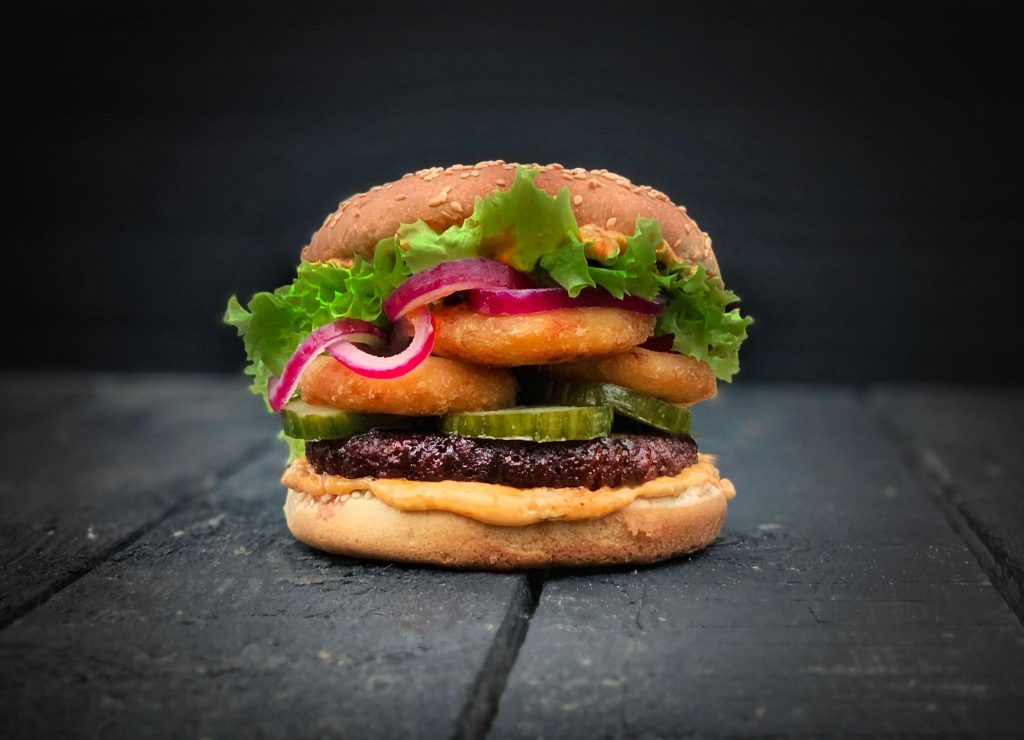 #4 Sweet potato and white bean burger
Delicious and nutritious vegan meals don't have to be complicated. Sweet potato and white bean burgers are the perfect examples, as they require minimal ingredients for preparation.
After preheating your oven to 375°F (190°C). Peel the sweet potatoes and cut them into cubes before placing them in a baking dish with olive oil and your choice of seasonings. Bake for 25 minutes or until the sweet potatoes are tender.
Combine one can of drained and rinsed white beans with a quarter cup of chopped onion, bell pepper, garlic cloves (minced), chili powder, cumin, smoked paprika, salt, and pepper to create a mash. Once the sweet potatoes have been baked, add them to the bowl with the mashed beans and mix until everything is blended together.
Form the mixture into patties about 3 inches wide and place on a greased baking sheet. Bake for 15 minutes at 375°F (190°C), flipping halfway through cooking time. Serve your sweet potato and white bean burgers on buns or over salad greens with desired toppings such as avocado slices or vegan mayonnaise.